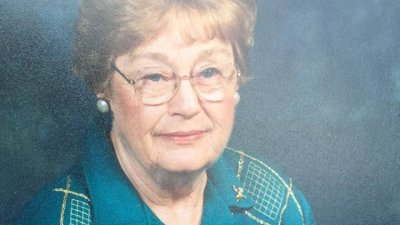 Thirteen days after being brutally beaten and set on fire, 83-year-old Dot Dow finally succumbed to her injuries. Injuries she sustained at the hands of 17-year-old Mina Ellery.
The crime occurred on Aug. 4, 2016. The victim was beaten brutally. Both her arms were broken. She was doused with lighter fluid and she set on fire. She died 13 days later.
Even though Ellery was sentenced to life in prison, she is eligible for parole after serving a minimum of 30 years behind bars.
She received a life sentence for the murder and 20-year sentences each for armed robbery, home invasion and aggravated battery. Angel Harmon, and two other people are also charged in Dow's murder.
Harmon drove Justin Peirce Grady, 38, Cortavious Deshun Heard, 18, Mina Christine Ellery, 17, and Angel Latrice Harmon, 17, to Dow's home in Lone Oak. Harmon and Ellery went to the door and talked with Dow while Cameron entered the house from another entrance and took Dow's purse.
Ellery pleaded guilty to using Dow's debit card and getting $1,500 from an ATM. Heard, is two years older than Ellery and her boyfriend. He reportedly owed Cameron money for drugs.
The Dow family operates a blueberry farm on their property. Heard briefly worked on the blueberry farm before being let go because of "deceitful practices,". Kenneth Dow, another son of Dot Dow who lived with his mother, paid farm workers in cash and was known to keep large sums of money on hand.
On Aug. 4, 2016, Dot Dow was asleep at home while Kenneth was at a movie. She awoke to discover the four defendants in her home. She was repeatedly asked about Kenneth's whereabouts and about the location of money but was unable to provide an answer. The elderly woman was cursed and beaten until both arms were broken. Lighter fluid was then poured down her back, and she was set on fire. Telephones were taken and Ellery pleaded guilty to removing Dow's Life Alert device from her neck.
After her attackers left, Dow used water intended for her CPAP machine to put out the fire on her back. Despite her broken arms, she crawled across the floor, found a working phone and called 911.
Shortly after being arrested, Mina Ellery got in trouble for having a cell phone and posting selfies on social media.