Writing the article earlier this week about women who killed their own mothers made me wonder if there were any sisters who murdered together. A couple, like Tasmiyah and Jasmiyah Whitehead and Sandra and Elizabeth Andersen, we discussed already but I found a few more you may not have heard about.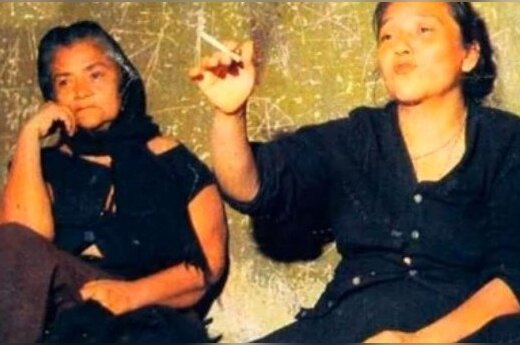 Delfina and María de Jesús González
These girls were some real gangsters. Guinness Book said they were the most prolific murder team of all time. Delfina and María de Jesús González, known as Las Poquianchis in the 1950s and '60s, were sisters who ran a huge prostitution ring near the city of San Francisco del Rincón in Guanajuato, Mexico at Rancho El Angel. The sisters would regularly place job advertisements in the newspaper for new recruits but kidnap those who responded. The victims were tortured, sold into sexual slavery, and all too often murdered.
The girls were force-fed drugs after being kidnapped by the sisters and became addicted. They were sold to pimps and madams at cheap prices and treated like prisoners. If they disobeyed, became ill or pregnant, or lost appeal, they were murdered and buried on the premises.
In 1964, three of their victims escaped and alerted authorities. The police searched the grounds of Rancho El Angel and discovered the remains of more than 80 women, 11 men, and several fetuses. It was eventually revealed that the sisters were also responsible for the deaths of numerous migrant workers as well as wealthy customers in addition to their sex slaves.
The Gonzalez sisters briefly evaded police but were eventually captured and placed on trial for their murderous deeds. The sisters were found guilty and given a maximum sentence of 40 years in prison. Delfina died in jail, while Maria served her sentence and disappeared. At their trial, it was revealed that a large number of townspeople were connected with the crimes.
Aged 17, 18 and 19, these three Russian sisters killed their father for abusing them. Investigators believe the 17-year-old, Maria, stabbed him about 35 times while her sisters - Angelina (18) and Kristina (19) - struck his head repeatedly with a hammer and squirted pepper spray in his face. The sisters say he stopped them from studying, threatened them with weapons and kept them like slaves.
The 57-year-old, Mikhail had about 40 knife wounds. His body was lying in the hallway of an apartment block. Friends and neighbors claimed that Khachaturyan was a tyrannical father and husband, who had developed a heroin habit and reportedly had connections with the criminal underworld. Khachaturyan's abusive behavior drove away his wife, the girls' mother. Khachaturyan's son, in his 20s, also lives away from home.
Left at home with the three girls, Mikhail fitted the family apartment with cameras to snoop on the girls while he was away, often forbidding them from going to school, and subjected them to beatings if they dared to disobey him. Khachaturyan would beat the girls savagely, but would avoid leaving visible bruises, lest anyone find out the extent of his abuse. However, his punishments were often more creatively sadistic than simple beatings.
Two sisters, Nicole and Misty Kornegay, 11-years-old and 15-years-old, were arrested in Florida and charged with the murder of their 16-year-old brother in 2015. The 15-year-old grabbed a handgun from her parents' bedroom and fatally shot her brother sometime before 10 p.m. The 11-year-old helped in the crime. Both were charged with premeditated murder.
Officials learned of the killing after a police officer in nearby White Springs ran into the two girls, who told the officer that there had been a shooting at their home. The 15-year-old told the officer that her brother had beaten her up earlier in the day, and investigators believe that prompted the fatal shooting. Once investigations began, a sickening history of incest and abuse in the family became clear. An uncle was already in prison for molesting them and video taping it. Florida children's services had been out before for the older brother, Damien, having sex with the girls.
These sisters are a little older than the rest, but I wouldn't want to piss either of them off. Linda and Charlotte Mulhall, 30 and 23, were cause of the most hotly covered murder cases in Ireland's history. The women killed and dismembered their mother's boyfriend, Farah Swaleh Noor, who they claim physically abused their mother.
Newspapers divulged details of the sisters' troubled histories, which included prostitution, crime, and drug abuse. On the night of the murder, the sisters allegedly took ecstasy pills with their mother and the victim. An argument ensured. One sister hit him in the head with a hammer and the other stabbed him to death. Afterward, all three women dismembered him. They cut off his head and penis and burned it in a field and threw the rest in the river.
The police were notified when part of the victim's leg with a sock still on it was spotted floating down a river near Croke Park ten days later. It wasn't long before police figured out who was responsible. Several books have been written about this case.
A court found Charlotte guilty of murder and Linda guilty of manslaughter, and gave them life and 15 years, respectively. Their father, John Mulhall, hanged himself in Dublin's Phoenix Park when he heard the verdict.
The Papin sisters are probably the more well-known of all on this list. They were live-in maids in 1930's France. They murdered their employer's wife and daughter. They had an abusive childhood and spent time in institutions. They kept to themselves and were only interested in each other. When the lady of the house fell into a deep depression and started regularly beating the girls, they decided to kill her. It happened one evening while the husband was away. The sisters set upon the wife, beating her with a hammer and a pot. They gouged her eyes out, which were later found in her scarf. When her adult daughter came to her rescue, they did the same to her. The police later found them naked in bed together.
The two girls were found guilty and Christine was sentenced to death. Léa was given the lesser sentence of ten years imprisonment because it was thought she was retarded and just doing what her sister told her. Christine's death sentence was later commuted to life imprisonment, which was common in the case of women. While in prison, she showed acute signs of madness and an intense longing for her sister. Christine became severely depressed, and frequently refused to eat. She was transferred to a mental asylum at Rennes, where she died of cachexia ("wasting away") on 18 May, 1937. Léa Papin was released from prison in 1943, her sentence having been reduced to eight years because of good behaviour. She then lived in the town of Nantes, where she was joined by her mother and earned her livelihood as a hotel maid by assuming a fake identity.[4] She was believed to have died in 1982, but this was questioned in 2000 by the French filmmaker Claude Ventura, who made a documentary film, En Quête des Soeurs Papin (In Search of the Papin Sisters), in which he claimed to have found Léa alive in a hospice in France. She was partly paralyzed as the result of a stroke and could not speak, although she was shown in the film. Ventura's film claimed that Léa died in 2001.